Corona Virus Good News : The world is still progressing
During times of fear and uncertainty, the very best elements of human nature can prevail, as is the case in these Coronavirus-related good news stories we've found from around the world, demonstrating the power of displaying care and kindness to those less fortunate or able than you in a crisis.
Lady Gaga and the Global Citizen organization has curated a live concert, One World: Together At Home, featuring performances by herself, Lizzo, Billie Eilish, Stevie Wonder and many more which will streamed across the world on 18th April, with BBC One showing a highlights show in the UK the day after.
Both Gaga and the organization have raised £35 million for the World Health Organization. The concert will not appeal for donations due to those already raised by the singer, reports the BBC, and is more to raise spirits and morale and thank medical staff. It will be fronted by talk show hosts Jimmy Fallon, Jimmy Kimmel and Stephen Colbert and will also feature guest appearances from celebrities like Priyanka Chopra, John Legend and Kerry Washington.
The Power of Positive News Journalism: Shining a Light on Hope
In a world flooded with negativity and sensationalism, positive news journalism emerges as a beacon of hope. While it is essential to address the challenges and issues that our society faces, focusing solely on the negative can create a sense of despair and helplessness. Positive news journalism presents a refreshing approach that highlights stories of human triumph, innovation, and compassion. In this blog post, we will explore the power of positive news journalism and its potential to inspire, uplift, and foster positive change in our world.
Inspiring Hope and Optimism: Positive news journalism offers a refreshing alternative to the doom and gloom narrative that often dominates traditional media. By sharing stories of resilience, progress, and acts of kindness, it inspires hope and optimism within readers. These stories remind us that despite the challenges we face, there are individuals and communities working tirelessly to make a positive impact. Such narratives serve as a reminder that positive change is not only possible but also happening all around us.
Fostering a Balanced Perspective: While it is crucial to acknowledge and address societal issues, an excessive focus on negativity can distort our understanding of the world. Positive news journalism provides a more balanced perspective by presenting stories of progress and solutions alongside the challenges. By shedding light on innovative solutions, inspiring initiatives, and positive role models, it allows us to see a more comprehensive view of our society. This balanced perspective encourages us to believe in our collective ability to create a better future.
Empowering Individuals and Communities: Positive news journalism empowers individuals and communities by showcasing their accomplishments and efforts. By highlighting stories of ordinary people doing extraordinary things, it celebrates their achievements and encourages others to follow suit. When readers are exposed to positive news, they are more likely to feel a sense of agency and believe that they too can make a difference. This empowerment fuels a ripple effect, inspiring more individuals to take action and contribute positively to their communities.
Cultivating Solutions and Innovation: Positive news journalism plays a vital role in promoting solutions and innovation. By showcasing stories of individuals, organizations, and communities finding creative and effective solutions to societal challenges, it encourages others to think outside the box. These stories inspire innovation, as readers are exposed to novel ideas and approaches that may not have otherwise come to their attention. By highlighting successful endeavors, positive news journalism provides valuable lessons and insights that can be replicated and adapted in other contexts.
Enhancing Well-being and Mental Health: The constant exposure to negative news can take a toll on our mental well-being. Positive news journalism acts as an antidote by providing uplifting and inspiring content. It offers readers a break from the constant barrage of negativity, reducing anxiety and stress levels. Consuming positive news stories can enhance mental health, promote a sense of happiness, and cultivate a more optimistic outlook on life.
Conclusion: Positive news journalism represents a powerful and necessary shift in our media landscape. It offers a counterbalance to the overwhelming negativity that often dominates traditional news outlets. By highlighting stories of hope, progress, and human resilience, positive news journalism inspires, empowers, and uplifts individuals and communities. As readers, we have the power to support and encourage this movement by seeking out and sharing positive news stories, amplifying the voices of those who are creating positive change, and actively participating in acts of kindness and compassion ourselves. Together, we can shape a future where positivity and hope prevail.
Church Opens Up Its Doors to Muslim Worshipers So They Can Have a Place to Pray During Quarantine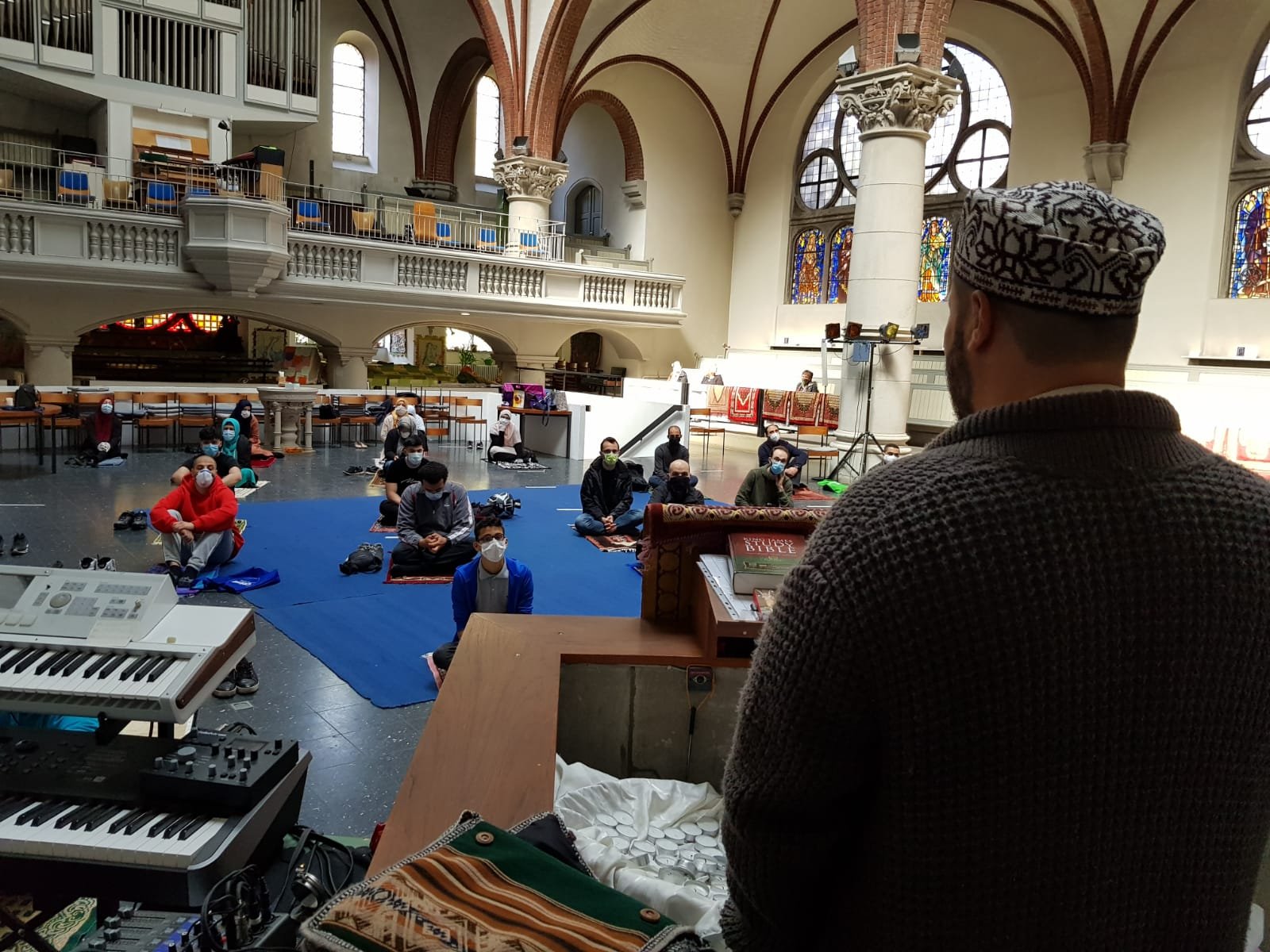 In a cheering presentation of between confidence empathy, a German church has made its ways for Muslims with no spot to go to Friday prayers during Ramadan.
Although the nation suspended religious services back in March as a means of curbing the COVID-19 outbreaks, they recently started allowing worshippers to gather in groups of up to 50 people at a time.
The Dar Assalam mosque in the Neukölln district of Berlin can typically accommodate up to 1,000 worshipers at a time during the month of Ramadan, but due to the new social restrictions, hundreds of German Muslims have been struggling to find a place of prayer.
Thankfully, the nearby Martha evangelical church—located just a few miles away from the mosque offered to open its doors to host the Friday prayers.
The church has now reportedly been offering two different prayer services for the Islamic worshipers, one in German and one in Arabic. Worshipers are asked to wear masks and maintain 6 feet distance during the prayer.
Representatives of Dar Assalam say that the events have helped them to double the amount of people attending their services while simultaneously raising valuable funds to support the mosque during the lockdowns.
"It is a great sign of solidarity," mosque spokesperson Juanita Villamor told Newsweek. "We are just thankful, this is a good chance of inter-religious dialog and it is wonderful that the church is doing this."
Credit: NewsWeek
Why The Humanity Post?
The World Health Organisation has named depression as the greatest cause of suffering worldwide. In the U.S., 1 out of 5 deals with depression or anxiety. For youth, that number increases to 1 in 3.
The good news is that 40% of our happiness can be influenced by intentional thoughts and actions, leading to life changing habits. It's this 40% that The Humanity Post help to impact.
These 12 Stunning Photos Were Voted Best in the World For Portraying the Essence of Spring
As flowers bloom and the weather warms for the coming of spring, photographers from all over the world were asked to capture the essence of the season in an international photography contest—and the finalists are all dazzling.
The contest was held by Agora: a free-to-use photography app with a global community of more than 3.5 million users from 193 countries.
Their most recent competition for the World's Best Photos of Spring 2020 garnered more than 14,500 entries from around the world.
"Spring is the symbol of life and rebirth in all civilizations, a time when seeds come to life and flood our beloved Earth with colors," said Agora CEO and co-founder Octavi Royo. "Through Agora, we get the opportunity to discover the best images of this wonderful period of the year—enjoy the show!"
This striking photo of a group of Vietnamese lily pad harvesters was voted the winner of the competition after the photographer, Tran Quang Quy, beat finalists from 19 other countries around the world.
"With this photo, I wanted to show the beauty of Vietnamese culture to the world," said Quy, who was rewarded $1,000 for his winning photograph. "This group of friends were all wearing an 'Ao Dai', Vietnam's national garment.
"This outfit is inseparable from the image of Vietnamese women, both within Vietnam and beyond its borders, and especially at official ceremonies, conferences, and weddings," he continued. "In this poetic setting with blooming flowers floating on the river, the authentic bamboo bridge symbolizes the connection between the past and the present."
Although Quy's photo was declared the winner by Agora's online photography community, several other breathtaking entries from Vietnam were nominated as finalists as well.
Meanwhile in Italy, photographer Mary Bassani managed to capture a snapshot of a peaceful-looking fox that almost seemed to be smiling as it sat among a field of tall lavender.
"I was photographing blue magpies, and suddenly this beautiful red fox appeared from the bushes," said Bassani. "The fox is one of my favorite animals and I never imagined seeing it in these circumstances, surrounded by lavender flowers. It was an exciting day."
One of the competition's Greek photographers, Iro Kiorapostolou, managed to capture the moment that a honeybee moved to pollinate a sunflower in Pentapoli Serres.
In another heartwarming photo from Vietnam, photographer Nguyen Huu Thong captured two young girls smiling at each other as they sat side by side, carrying on their backs huge baskets filled with yellow flowers.
"They had spent the afternoon picking these beautiful flowers that would be used for medicinal purposes in their tribe," said the photographer. "Their lovely faces and beautiful smiles made me appreciate the moment."
If you want to check out more of the competition finalists, be sure and visit the Agora Spring 2020 contest page.
Credits: agoraimages
Why The Humanity Post?
The World Health Organisation has named depression as the greatest cause of suffering worldwide. In the U.S., 1 out of 5 deals with depression or anxiety. For youth, that number increases to 1 in 3.
The good news is that 40% of our happiness can be influenced by intentional thoughts and actions, leading to life changing habits. It's this 40% that The Humanity Post help to impact.